I am partnering with Disney to offer these official Disney Activity Sheets and the Giveaway (on IG) for the Digital Movie code for Raya and the Last Dragon. The views and opinions expressed in this post are entirely my own.
Looking for some fun Printable Raya and the Last Dragon Activity Sheets to do with your kids?
Disney's newest Animated Princess Adventure Film Raya and the Last Dragon came out earlier this year in theaters and on Premier access on Disney+ (for only $29.99). Earlier this week (on May 18th) Raya and the Last Dragon was released on 4K Ultra HD™, Blu-ray™, and DVD!
If you haven't seen Raya and the Last Dragon Disney's Epic Action Fantasy move yet… Now is the perfect time to do so! Think Family Movie Night! I know we plan on watching it again this weekend!
To celebrate, I am teaming up with Disney to Giveaway a Raya and The Last Dragon Digital Code (that can be redeemed at MoviesAnywhere.com or on the Movies Anywhere app.) on my Instagram. The Giveaway ends Sunday, May 23rd. The winner will be announced on May 24th –> ENTER IG GIVEAWAY HERE<–
For those of you not familiar with this new DIsney movie: Raya and the Last Dragon, takes you on an incredible and might I say epic journey through the fantasy world of Kumandra. (See Trailer Below)
Once humans and dragons lived in harmony together. However, 500 years before the dragons ended up sacrificing themselves to save all of humanity from a great evil. Now the evil is back and even worse the people of Kumandra are all divided. All hope is lost when Raya a lone warrior decided to seek the last legendary dragon to help her restore all the land and once more save its people. However, Raya will learn her task is much harder than she would think for it will take more than a powerful dragon to save her world.
In addition to the giveaway mentioned above, I am also teaming up with Disney to offer you these fun Raya and the last Dragon Activity Sheets!
I actually have 2 fun Raya and the Last Dragon Activity packets to share with you.
In this first fun Raya and the Last Dragon Activity packet you will find several fun activities to do with your children that tie into this epically fun movie. This download comes as a 9-page full-color ready-to-print PDF that you can print at home or at your local copy center. It includes activities like designing your own animal, studying the colors of nature, and even fun Raya-themed mad libs.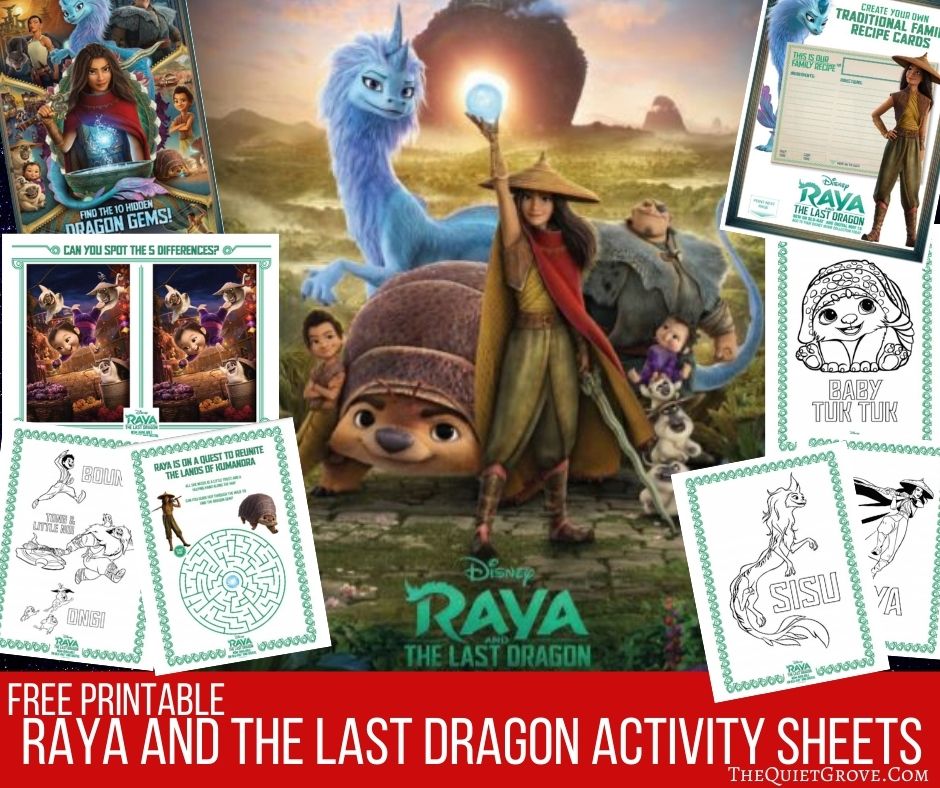 This next 10-page full-color activity packet from Disney comes as a ready-to-print PDF file which includes traditional family recipe cards, a fun maze, a find the hidden gems game, a spot the difference activity, and several Raya and the Last Dragon Coloring Pages.
This is such a fun activity to do with your Disney Dragon-loving kids. Some of the activities are fun for adults too. I hope you have fun watching Disney's new epic fantasy adventure Raya and the Last Dragon with your family. As always Disney outdid themselves with this movie.
If you liked this post then check out these: (click on the photos to go to the post)