All of my printables are Ready to Print PDF Files
I have had soo much fun working with my talented husband to create these fun family printables. I hope you enjoy them as much as we do. These files can be printed at home or at a copy center. I am always designing new printables so check back again soon for more. My printables are created for you to enjoy, please remember these are for personal (Non-Commercial) use only.
**By entering your name & email to download my printables you are agreeing to sign up for my Free Newsletter where you will be kept up to date on my latest posts and printable. You can read my full policy disclosure here.) Please note: When you enter your information to get any of my Free Printables 2 emails will be automatically sent to you. 1 email confirming your subscription to my e-newsletter and 1 email containing your instant download link. Every once in a while due to your email settings 1 or both of these emails can end up in your junk/spam box. So if you don't see them arrive in your inbox please check there first. If for some reason you still don't see the emails, please contact me and I can resend them to you directly. Thank you.
I have created so many printables that fit under this category that I decided to Create a few new download pages for some of the printables that used to be found on this page in order to make it easier to find what you want.
You can find them via the hyperlinks below. If you are here for one of my other Educational Printables scroll further down on this page until you find the Printable you are seeking.
Bridgerton Bookmarks
Are you a fan of the Bridgerton Series on Netflix based on the popular book series by Julia Quinn? Then check out these fun Bridgerton Bookmarks with iconic quotes by your favorite characters! This download is ready to print PDF file with 4 printable bookmarks.
2021 Printable Reading Challenges
This ready to print PDF file has 3 standard pages with 3 Reading Challenge Book Marks per page (1 page for Adults, 1 page for Youth, & 1 page for Children) so you can get your friends and family to do this fun reading challenge with you.
Fairytale Bookmarks
Use this fun printable bookmark to mark your spot in your favorite fairytales. This ready to print PDF file contains 4 printable bookmarks per page and can by printed at home or at your local copy center.
Back to School Goals Printable
This Preintable comes as a ready to print PDF with 2 pages. The first page is a goal sheet for Parents and the second sheet is for teachers to use to sit down with your kids to set goals and expectations for the coming school year.
Mickey Mouse Welcome Back Banner
Welcome your young students back to school with this fun Mickey Mouse "Welcome Back" Disney themed Printable Banner. Comes as a PDF file with 4 printable pages (3 Letters per page).
US Geography Worksheets
This download comes as a compressed rar file (any unzip program will work to extract the individual PDF files within) containing 4 worksheets for all 50 States as well as 4 USA worksheets. (2 with questions about each state, 1 with an outline of the state for them to fill in (topography, cities, cool places etc), a US map for them to color in the correct state, and the state flag for them to color in.)
"Welcome Back" Crayon Banner
Welcome your young students back to school with this fun colorful "Welcome Back" Crayon themed Printable Banner. Comes as a PDF file with 4 printable pages (3 Letters per page).
Kid's Summer Reading Kit Printables & SVG Cut File bundle

This download is a zip file for Kid's Summer Reading kits! The files include PDF printables for Summer reading goal chart, Bookmark, & Reading Journals (in both girl colors and boy colors). It also contains the SVG cut files for a Princess and butterflies (for the girl reading journal cover), little princess (for the girl bookmark), large dinosaur (for the boy reading journal book cover) and little dinosaurs (for the boy bookmark). To get instructions for assembling the Summer Reading kits go here.
Summer Reading Program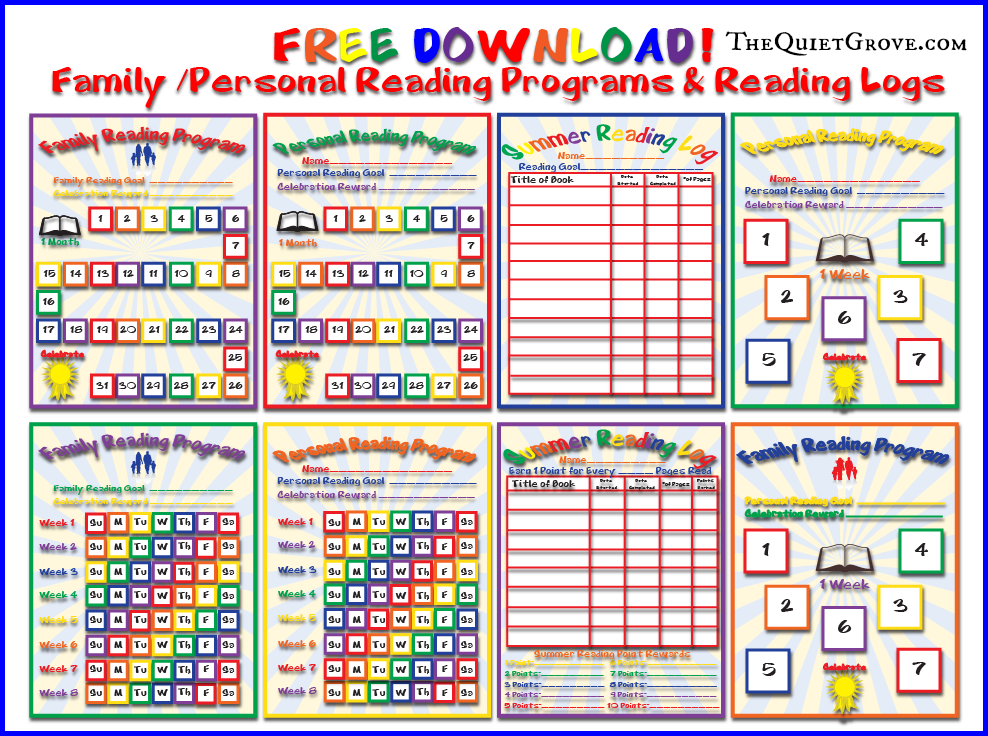 Enjoy this collection of fun colorful read Program Printables that you can use for your family or individual Family member as well as Summer reading log (with and without point system).
Between the Pages of a Book Bookmark
Enjoy this printable for the Between the pages of a Book is a Lovely place to be Bookmark. This printable has 3 copies of this bookmark saved in a PDF file on a standard 8.5×11″ page. Its ready to print, cut and enjoy!